Forecasting Victoria's infection peak: 13 July to 20 July – Christopher Joye – Livewire Markets
One question we have been regularly asked is when will Victoria's second COVID-19 wave actually peak. We can use our existing COVID-19 forecasting systems to address this question very quickly. Recall these systems allow us to flexibly condition in real-time …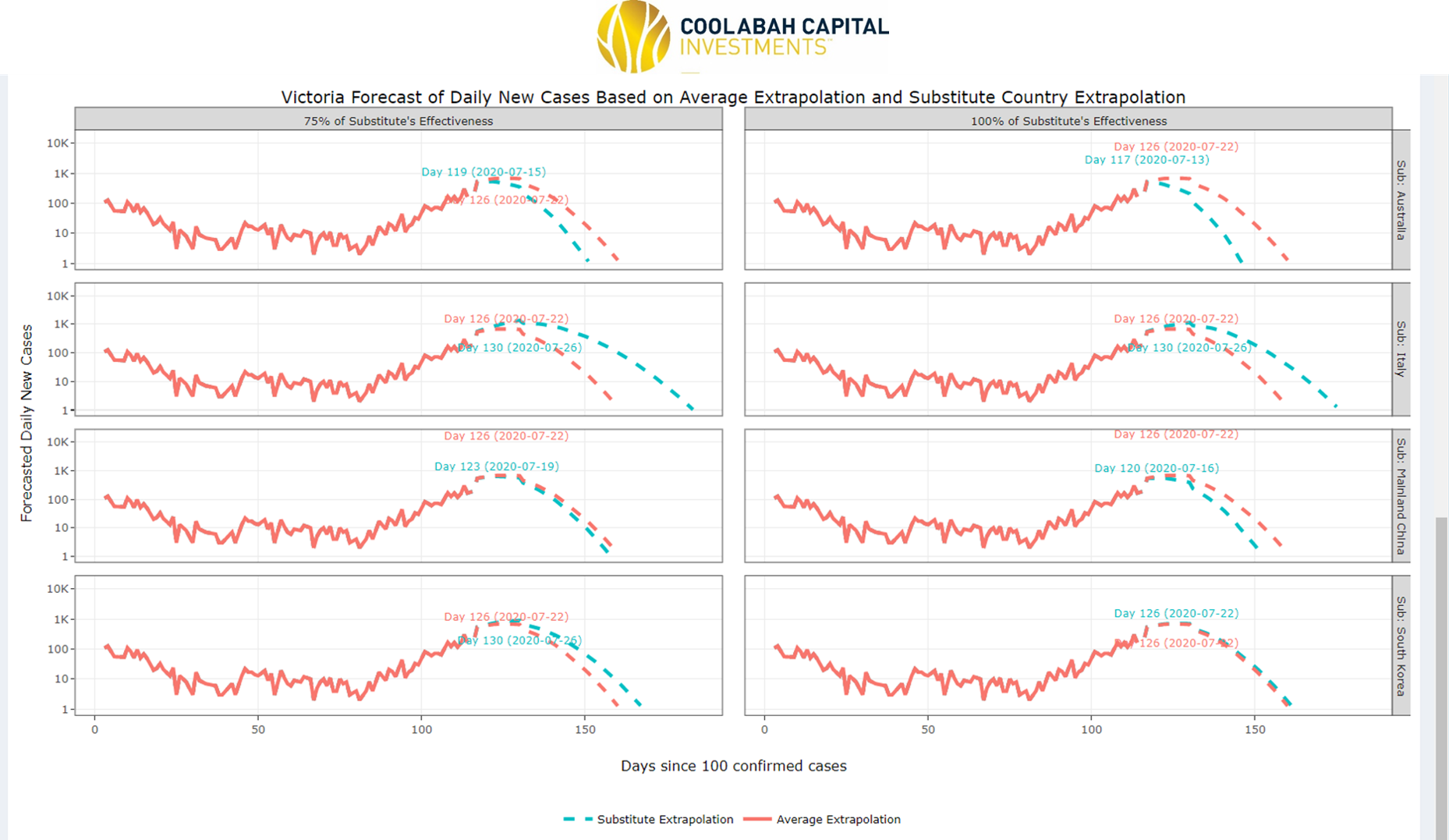 One question we have been regularly asked is when will Victoria's second COVID-19 wave actually peak. We can use our existing COVID-19 forecasting systems to address this question very quickly. Recall these systems allow us to flexibly condition in real-time any target government's lockdown policy on the efficacy of countries that have gone before them. We can further hair-cut the forecast country's lockdown intensity as some discount (eg, say 75%) to that observed in other jurisdictions. (These changes are simply a matter of selecting countries and hair-cuts via our graphical user interface—I have enclosed two screen-shots that gives a sense of what it looks like.)
In the context of a second Victorian wave, we also want to be able to develop forecasts applying lockdown intensities documented in the country in question (ie, Australia). There is, however, an argument that Victoria is the first Australian example of widespread community transmission of COVID-19, which means that prior Australian infection paths that were primarily driven by imported infections may be of limited utility. 
This is why we do both. That is, the system allows us to condition forecasts off both the prior Australian lockdown experience and using trajectories observed elsewhere. For this exercise I have selected a wide sample of conditioning countries, including South Korea, China, Italy, Germany, France and the UK. 
The forecast results are summarised in the two images below, which are screen-shots from Coolabah's COVID-19 tracking and forecasting system (click on the images to see a better version). If we condition on the prior Australian lockdown experience, Victorian infections should peak by 15 July. If, on the other hand, we use South Korea (or Italy) as the benchmark, the peak should be by 22 July (or 26 July). Throwing in France, Germany, and/or the UK into the mix similarly implies a peak around 22 to 26 July. You can see the conditioning country on the far right-hand-side of the box in the image.
Since the Victorian government appears to have been (belatedly) thorough and aggressive in responding to its past containment errors, which propagated this second local wave, one would assume that the peak will be somewhat earlier than the European trajectories imply (say prior to 20 July).
A second Australian wave has not been our central case. We have always hypothesised that we would get future outbreaks, but a second national wave was not our expectation. In Australia we have had seven states and territories that have done a brilliant job of effectively eliminating COVID-19. One state, Victoria, has failed miserably through what is clearly a combination of policy errors. As a country, we should, however, learn from Victoria's mistakes such that the national COVID-19 policy reaction function is stronger than ever.