Woman discovers disturbing note on car warning of creepy visitor – Yahoo News Australia
The 'scaly intruder' had buried itself in amongst in the warm car engine.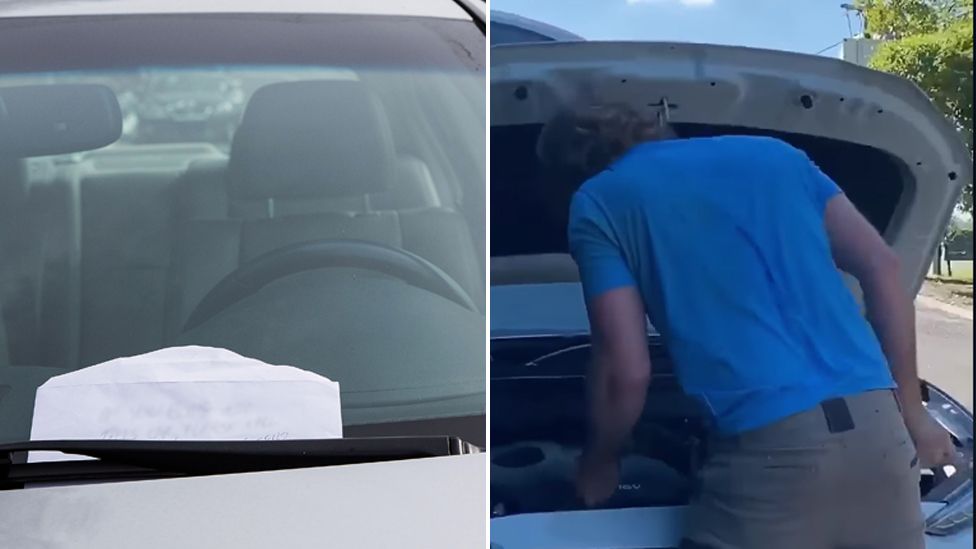 When a driver returned to her car to find a note telling her there was a snake somewhere inside, there was no way she was going to go looking for it.
She called in an expert snake catcher instead and it was a good thing she did, because what they found was enough to startle even the toughest of Queenslanders.
A member of the Snake Catchers Brisbane, Ipswich, Logan & Gold Coast team responded to the call for help in Indooroopilly, a suburb west of Brisbane, on Wednesday.
The snake catcher managed to wiggle the giant reptile out of its "hidey hole". Source: Snake Catchers Brisbane, Ipswich, Logan & Gold Coast
More
Buried in the warmth of the vehicles engine cavity, they found an enormous carpet python.
In a post to Facebook, the team wrote the woman was understandably not quite game enough to take a look under the hood.
Upon arrival, the snake had weaved itself into a very difficult spot for our catcher to access, the post read.
After some time spent encouraging the scaly intruder out of his hidey-hole, our catcher managed to safely remove and relocate the snake.
Fortunately, it was a relatively smooth operation which, had it gone otherwise, could have seen the woman opt to walk home, according to the snake catcher.
The snake catcher had to put his back into the operation, which fortunately had a positive outcome. Source: Snake Catchers Brisbane, Ipswich, Logan & Gold Coast
More
Skin crawling footage showed one of the team members pulling the huge animal out of the car.
Oh wow hes huge, a woman filming was heard saying, stunned by the size of the giant creature.
Do you have a story tip? Email: [email protected]
You can also follow us on Facebook, Instagram and Twitter and download the Yahoo News app from the App Store or Google Play.